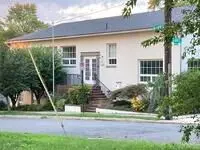 My office, in the Palisades next to the Georgetown Reservoir, is comfortable, private, and therapeutic. I strive to create a pleasant and welcoming environment. Additionally, I am always open to tele-health appointments.
The address is: 1415 Elliot Place, NW, Washington, DC 20007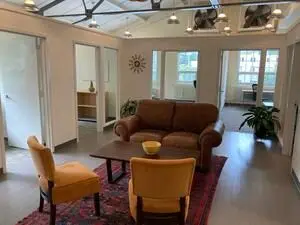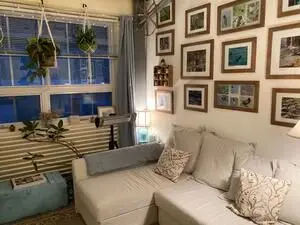 The building my office is located in is partially occupied by an engineering company that designs for air quality and safety. We have a negative pressure fan system which constantly recycles air, bringing fresh outdoor air in and moving existing air out. There are hospital grade HEPA filters, fans, lofted ceilings, & windows that open, creating ventilation that is about as ideal as one could ask for indoors.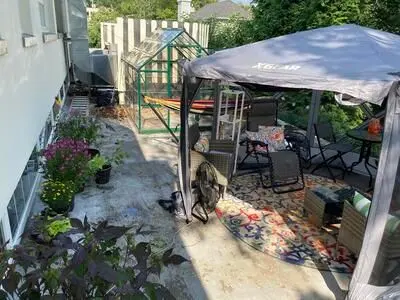 Additionally, on a rooftop just outside from my indoor office, I have created an outdoor consulting space with a screen room/ gazebo/ yurt like structure. I have industrial strength fans to keep it cool during warm days and an outdoor/patio heater for comfort when it is chilly.
Covid-19 Safety Policy:
When clients arrive for in-person appointments, everyone must wear a mask. I monitor my own temperature daily and take clients' temperatures upon arrival with a touch-less thermometer. Once we are seated in a very well ventilated area, at least 6 ft. apart, if clients are comfortable with removing masks, we can. I ask that clients who are not able to isolate carefully stick to tele-health sessions for now, so that those who are most isolated can safely have therapy in person. We provide hand sanitizer and the building is professionally cleaned and sanitized.
Outdoor/ Eco-therapy:
Over the years I have also walked with clients who want to do so during our sessions. My office is located right beside a national park area with a trail along a bluff above the Potomac River.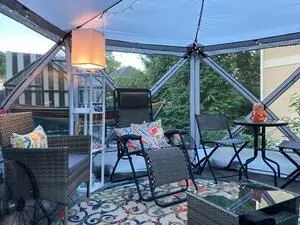 Accessibility:
If you are unable to manage about 8 steps, please let me know in advance so that I can arrange to use an accessible office of a colleague.
Public Transportation: The building is about a block from the bus stop on MacArthur Boulevard.
Parking: Street parking is almost always available directly in front. If you are driving, there is always sufficient street parking, and you may park on the street without a permit or Zone Pass, free, for several hours without concern of being ticketed. The spaces in the small parking lot beside of 1415 Elliot Place are reserved; please do not park there.
Charlotte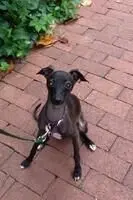 Juni
Pet Therapy:
For many years, I have brought one of my Italian Greyhounds into therapy, and they have been very important to many of the people I've worked with. "Charlotte," who is now about 15 pounds and has accompanied me to the office for the last seven years, is well trained and has warmed the hearts of many, In March of this year we adopted a "little sister" for Charlotte, "Juni", and now, for the most part, Charlotte and Juni "work from home" with other members of my family, though occasionally, I will bring one or both of them to the office for the day. If, for any reason, you would prefer that dogs not be present during your appointment, please do not hesitate to let me know in advance of your scheduled appointment day.