Welcome
"The task of the psychologist is to make a difference; to increase the joy, zest, and richness of life of his fellow human beings." -- Clark Hull, 1941
Today you are one step further on a positive path of growth, empowerment, and well-being.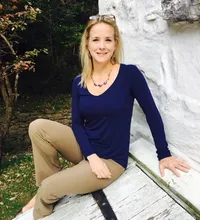 Providing psychotherapy in the Palisades, next to the Georgetown Reservoir, in Washington, DC, my goal is to help you uncover your true potential and lead a life that is worth celebrating. While we can't change difficult situations of the past, we can work together to better understand and resolve challenges in your life. Through the healing relationship of psychotherapy, we will unearth long-standing patterns or negative perceptions that may be holding you back from experiencing a more fulfilling and meaningful life.
I have been providing psychotherapy for twenty years, working with people to help them recover from past trauma or grief, to manage depression, and to overcome anxiety. I help individuals and couples achieve healthier sexual functioning and greater fulfillment in their relationships. We can address the emotional components of many health difficutlies, including infertility, and help you cope with disabiiity and/or change health behaviors. Some clients choose to receive self-hypnosis training. Support and guidance for parenting can be part of the therapy process. If you're looking for extra support and guidance through a challenging situation or you're just ready to move in a new direction in your life, I look forward to working with you to achieve your goals.
Please call or email me for an individual, couples or family therapy consultation.

Ruth Wittersgreen is listed at http://www.alltherapist.com
I am committed to your privacy. Please text or email me if interested in scheduling an appointment.
No form settings found. Please configure it.